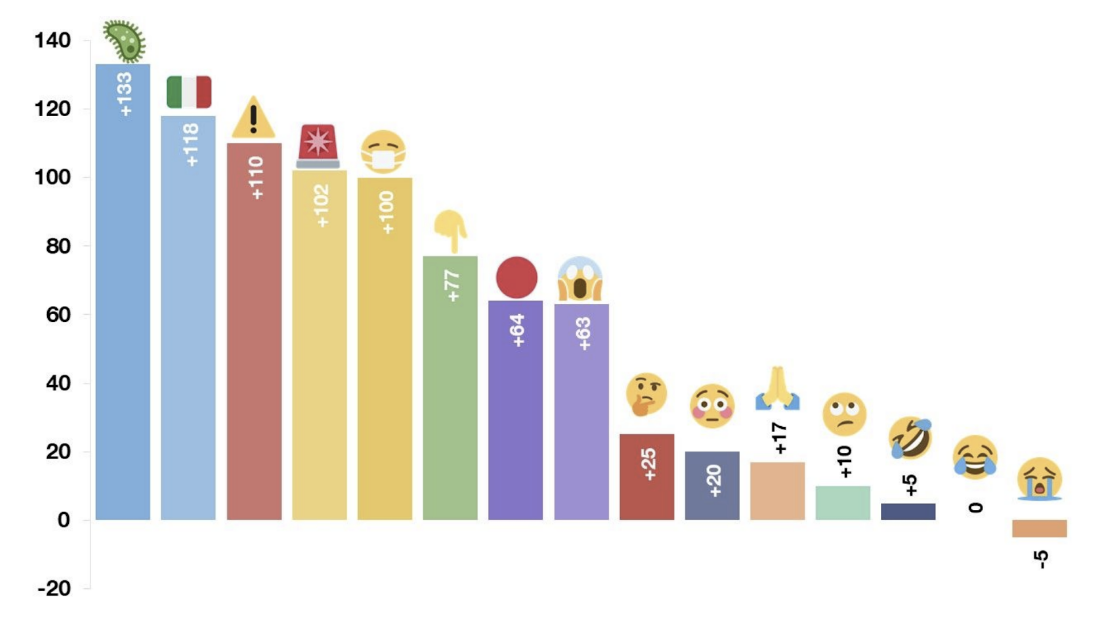 Research shows we're still able to laugh under lockdown as emoji use surges on Twitter.
Use of emoji has grown 36% on last year, and 15% in lockdown
Laughing still the most used emoji
Expressions of sadness and anger increase in lockdown
New research from global socially-led creative agency We Are Social examines global emoji use on Twitter to show how the ways we express our emotions via the visual icons is changing both year-on-year, and during lockdown.
Top 10: 'Pleading' climbs up the charts 
The use of emoji has increased 36% in April 2020 vs April 2019. Overall, it remains the case year-on-year that laughing emoji are still consistently the most used on Twitter. However, the 'pleading face' has shot up the charts over the last year, and now sits in 3rd place in April 2020 vs 10th in April 2020. The pleading face was introduced in 2018 and, along with its intended use, it may also "represent adoration or feeling touched by a loving gesture" according to Emojipedia. The 'thinking face' emoji also features in April 2020's top 10. The growth in use of these symbols represents an appetite for more nuanced ways to express ourselves online.  
Year-on-Year Trends April '19 – April '20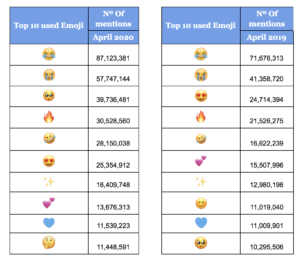 In lockdown: Emoji use up 15%, sadness and anger see biggest increases (but we're still a joyful bunch)
With We Are Social's Digital 2020 April Report showing that 76% of internet users aged 16- to 64 say they have been spending more time on their smartphones since lockdown started, it's no surprise that emoji usage is also skyrocketing. There has been a 15% increase in emoji use since most countries entered and remained in lockdown in mid-March up until the end of April, compared to February to mid-March. 
While the top emoji feature tears of laughter, those of sadness have also appeared more frequently in recent weeks. Sadness saw the biggest percentage increase in lockdown (28%), followed by anger (26%), disgust (23%) and fear (19%). There is still room for happiness though; 'joy' emojis are still by far the most commonly used on Twitter, and these have increased 17% from pre to post lockdown. 
Pre and post lockdown change in emoji use*

*Data shows the change from 1 Feb-15 March vs 16 March to 30 April

Use of virus and warning emojis increase 
Perhaps unsurprisingly, the two most popular emoji used in discussions related to Covid-19 were ? (+42%) and ? (+36%).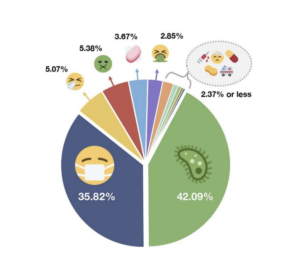 There is also some evidence to suggest people are using emoji as a means of warning others: relative increase of lesser-used 'warning' emojis in recent weeks such as the ?, ? and ⚠️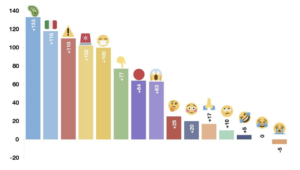 Lore Oxford, global head of cultural insights at We Are Social commented: "People are communicating more online, and given that the physical cues we'd get from IRL hangs are currently few and far between, the emotional aspect of online communication is more important than ever.
"The continued reign of the 'crying laughing' emoji is particularly notable amid this spike. Numerous studies have proven the importance of laughter and comic relief during times of crisis. According to research conducted by Robert R. Provine, a professor at the University of Maryland who was broadly recognised as a global authority on laughter, laughing with others can not only help us feel connected, it can also make us feel in control when times are tough. Connection and control are two things that are in short supply during a pandemic.

"The rising use of the 'pleading' emoji is also especially interesting, having replaced heart eyes at number 3. This is an emoji that's used with sincerity. While it's one of the more complex emojis in this grid – it can be used to express that you're feeling imploring, humble, grateful, worried, deflated, etc. – it's rarely combined with irony or sarcasm, but instead signifies genuine emotion. At a time when anxiety is high, perhaps it's not so surprising that people are seeking ways to communicate with sincerity."