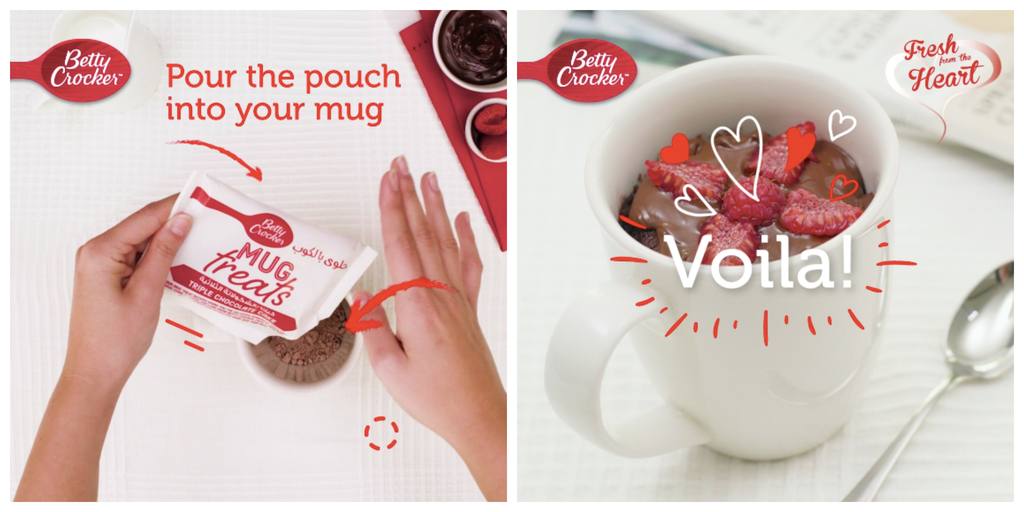 How many times have you craved a mouthful of deliciously warm, freshly baked cake? If you're anything like us, it's all day every day. But how do we find time in our busy days to create these masterpieces from scratch? With Betty Crocker's brand new unique range of 'Mug Treat' cake mixes, we can all prepare fresh, hot cake in a minute, and all you need is:
x1 Mix,
x1 Mug,
x1 Microwave,
x1 Minute!
We wanted to announce the launch of Betty's brand new innovative products with a bang on social, but with our audiences ever shrinking screens (and attention spans!) we knew we had to make our content short, snack-able and impactful to standout on busy newsfeeds. So we created a series of Instagram friendly indulgent 'How To' videos with quirky on screen supporting text – each lasting no more than 25 seconds in length to capture and retain our consumers attentions.
Our recipe for success certainly worked! Over the space of x2 weeks our videos received a VTR at more than double the industry standard, and our highest ever yet for Betty Crocker. We also saw a staggeringly high completion rate – topping that of any video we've ever posted for the brand, and showing our audiences clear appetite and interest in our short, snappy video content.
Take a look at any of our videos to see what we mean – you'll be instantly hooked! And if you're in need of any further inspiration to get creating these delicious treats, find our helpful list of perfect consumption moments below…
You're welcome!
1) Munch a Mug Treat at your desk
When you've hit a wall and you have a deadline. What better pick-me up than a delicious Chocolate Brownie Mug Treat
2) Indulge whilst you Netflix & Chill
The ultimate snack to consume whilst hiding from the heat outside.
3) Impress your pals during the Footie
With the World Cup just round the corner, get your cupboards stocked with all x3 flavours (our favourite is Blueberry Muffin!)
4) Have a well earned study break
Make the moments of madness a little more pleasant with mouthfuls of sumptuous chocolate cake.
5)  Say you're sorry with a tasty treat
When there's no time for flowers, whip up a Mug treat – once you place that steamy, gooey mug full of goodness in someone's hands – they won't be mad for long!
6) Enjoy cake perfection with your gal pals
The perfect 'girls night in' treat for yourself and friends. Make all x3 flavours, we guarantee each of you will pick a favourite, a lot quicker than agreeing on what film to watch….