A week ago, we had the pleasure of having our team (in Singapore) present the case study for Global Pride Crossing at 
Campaign Magazine's Gaming Summit
. The work has recently been recognised at the Tangram, Spikes, WARC and The Shorty Awards, but it's even more thrilling to have the opportunity to present it as a best-in-class example for our industry.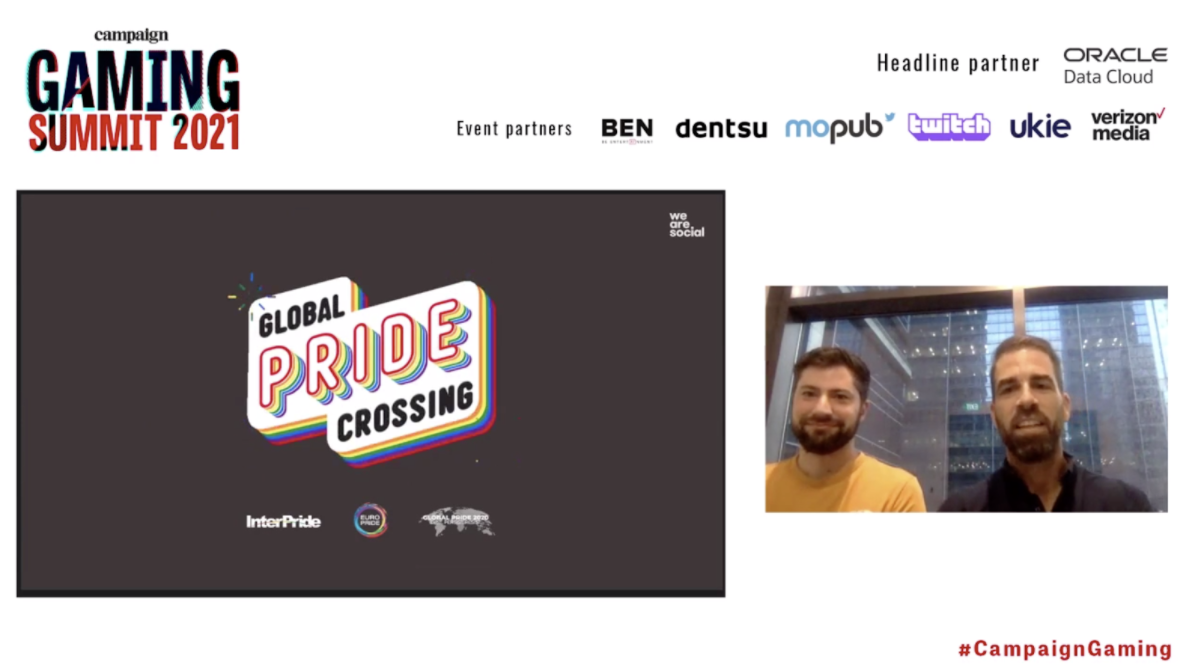 We focused our presentation on two things:
Social gaming is all about building an ecosystem of connections to generate conversations and provide the space for creativity.

For Global Pride Crossing, we designed an ecosystem where interactivity and engagement were the driving forces. We brought signature activities online through our Pride-themed Animal Crossing: New Horizons (ACNH) island to emulate the lost culture, fun and sparkle of physical Pride events. It served as an inspiration for players to replicate and host their own mini pride events within ACNH.

The ecosystem can and should be supported by other social networks outside of the game. 

Twitter was our "official" communication channel. We provided valuable resources like tutorial videos and design codes for players to begin organising their very own in-game Pride parades. It's also an excellent channel for us to share ongoing UGC through #GlobalPrideCrossing, feeding the activation with positive energy, conversation and fun. To further spread the joy and community of Global Pride, we also teamed up with pro-LGBTQI+ gaming creators. Through Twitch/Facebook live streams, more people got to experience a virtual Pride in some form or another.
We stayed true to the Pride movement and helped Global Pride carved out an entirely new space for the queer community to freely gather, express and celebrate loudly and proudly.
In addition to the presentation, our colleagues from around the world also joined in as attendees at the summit, and have gathered their key takeaways here:
Mobbie Nazir, Global Chief Strategy Officer
A key takeout for me from the summit was the potential for direct-to-avatar to become the new direct-to-consumer. Increasingly we are living our lives in virtual gaming spaces and with the rise of 
NFTs
*, there are opportunities to create unique, long-term value in brand extensions into these spaces. It's hard to get your head around sometimes why these digital items are so compelling – but the reality is they are and it feels like this is going to have a huge impact on the future of how we consume brands.
Luca Della Dora, Marketing & Innovation Director, Milan
The two key messages I want to share after the Campaign Gaming Summit 2021 are a sort of intersection because they both relate to people's perception. The first relates to the idea that when a brand 'enters' a game, it's entering just that single title and engaging only with the people who are playing that game – and that's not true. When a brand enters a game, it enters into a complex ecosystem, made up of tons of elements that are able to amplify messages and spread the brand's presence across multiple platforms (if you create a branded skin on Fortnite, then you're probably reaching people on Twitch or being talked about it on Discord too). 
The second take-out is that gaming is not (just) about gaming: both games and platforms are as much social environments as the big social platforms are, and they are not just for the players (as Instagram is not just for creators). It's fundamental to understand that everyone is a gamer – potentially – since everyone owns a smartphone: hyper-casual gamers are a huge audience brands can reach and engage. And that's an opportunity that brands can't miss.
Peter Mazloumian, Head of Copy, Dubai (Socialize)
One key takeaway, that seemed to manifest itself across each of the sessions, was that we need to change the way we think about communicating with gamers. The goal isn't, 'how can I get my product in front of gamers', it's more 'how can we organically introduce our brand to their world in a way that adds authentic value to the gaming community?' A traditional advertising approach is destined for its own demise unless we take the time to truly understand who we're talking to, what games they're playing, why are they playing, who they are watching and how can we add value to their overall gaming experience.
Matteo Starri, Research & Insight Director, Milan
The key takeaway for me is that rules are still to be written when it comes to the effectiveness and measurement of brand activations in these spaces. We are already catching glimpses of potential for attribution on the lower side of the funnel (in part thanks to NFTs) but the higher end of the funnel is yet to be explored and new methodologies and technologies will (likely?) have to be designed and implemented. Can we get away with trying to replicate an 'exposed/control' approach, or will we need to come up with something entirely new?
Melantha Tan, Planner, Singapore
The key learning point for me was: Don't get in the way of gamers! A respectful approach to the gaming communities, using an immersive rather than disruptive strategy, works best in this emerging medium. 
Caution is advised as games are like any other culture; tight-knit communities, each with its own values, habits and codes. Plus, gamers today don't just want to play games; they want to chat, connect and build relationships. It's almost social-first for them, spending time online engaging in their passion, and doing it with a like-minded community, just like they would on a traditional social platform. Yet, these hyper-engaged tribes remain, for now, largely untapped. If a brand does consider adding gaming into their media repertoire, engaging carefully and thoughtfully with these gaming communities would be the key to finding success. Ideas need to enhance the experience for gamers and add value to players' passion. Make it worthwhile and exciting for them, and then it's game on.