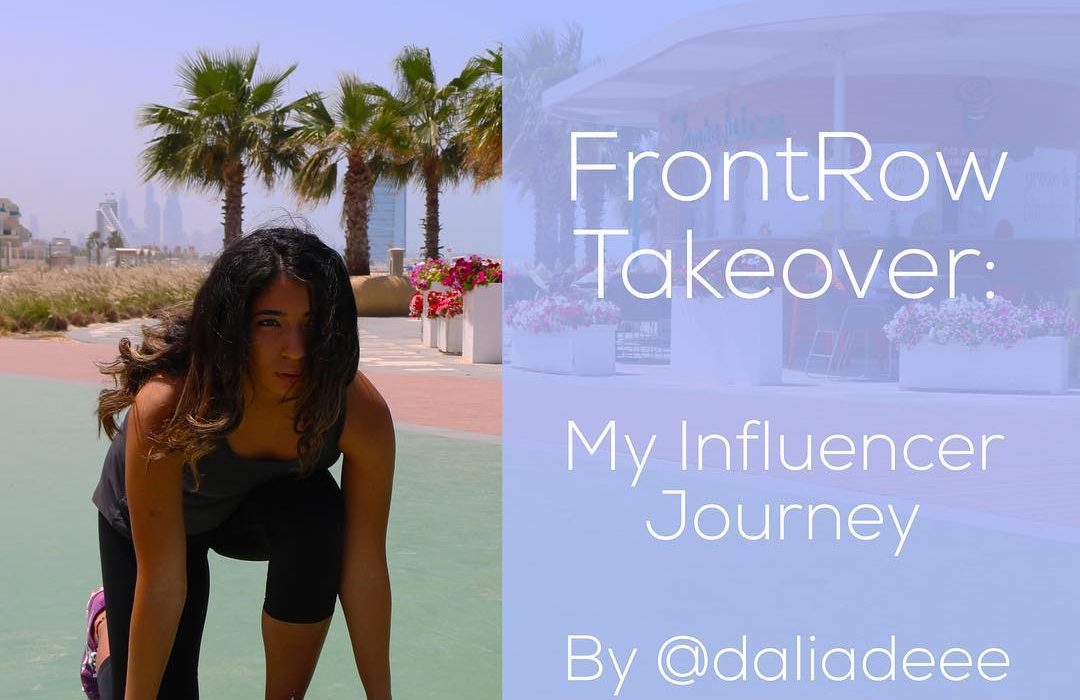 FrontRow sat down with the fighting fit Dalia Abdelrahman (@daliadeee) to learn about her coming of age story as an influencer, what challenges she faces everyday and what she plans on doing next. Here's Dalia:
"Anything is possible if you put your mind to it" – Pretty obvious, right?  Honestly, everyone has heard this phrase more than once, but when you actually put this to use, literally ANYTHING is possible.
For those of you who don't know me, my name is Dalia Abdelrahman, I'm a 20 year old Marketing student, Fitness Instructor, Football player, and micro-influencer. I never ever imagined myself to get to where I am today because 3 years ago I was pretty much the most unfit person in the room.
Phase 1:
At that time, I discovered some health issues that I was having, and health risks that I could face in the future. So I had to change my lifestyle within a few months… The bad news: I had to let go of what I love the most… Unhealthy food! But you gotta do what you gotta do.
Phase 2:
I motivated myself, got all the support from my family, and within six months I lost a few kilos, and had turned my whole life around. I was going to the gym regularly (and absolutely loved it!), and I ate all the right food. (I was obviously cheating every once in a while, too.)
Phase 3:
I loved the gym life, the football life, and I became one of those people who actually feel sick after having a "fatty" meal (woah). Who would have thought? Anyway, I was seeing people around me, who lack motivation to become healthier and fitter. I had the urge to help them, and share my story: IT IS possible, and not hard at all.
In the summer of 2016, my mom (shoutout to you) gave me the idea to take a PT course, so I can actually (and legally) help people. So I did.
Phase 4:
And it was that summer, where my Instagram journey started, too. I decided to post about what I do, hoping that people benefit from my content. I also wanted to show people how I progress, instead of just starting my Instagram journey when I'm already extremely fit.
After I received my certification as a Fitness Instructor, I took Instagram a bit more seriously and focused on putting out more content. I was gaining followers, views, likes and most importantly what I was hoping for: I inspired people. I received so many messages from people that I knew and didn't know, telling me how much I motivate them. And this is exactly why I keep doing this.
I love being a micro-influencer, even though it can be a handful. Thinking of new ideas, captions, locations all so that people are getting interesting and useful content. But thankfully, my best friend (and manager) helps me out all the time, and I couldn't do it without her.
However, the reward outweighs the hardship by tonnes. I've got to work with great brands such as PINK on fun campaigns. I'm also looking to graduating university and completing my level 3 PT certification. Ultimately, I'm doing this to help myself and others become fitter, faster, stronger. I currently have one solid, full-time client (shoutout to you girl), so I'm excited to get a few more.
So to everyone out there, who thinks something is too hard to do: "Anything IS possible if you put your mind to it."